Penghu Island hopping cycling - Cimei+Tungji
The Penghu Islands are scattered in seas, only 20 of which are inhabited, have a total land area of approximately 127 square kilometers. The Penghu Islands offer a rich diversity of spectacular geological scenes and landscapes. Here, the efforts of the Creator have left a marvel of stone sculptures, providing an ideal natural outdoor classroom.
【Total distance: about 131 KM @ average speed about 15-20 KM】

1.Cycling event has 1~2 support vans and 3~4 working staffs
2.Penghu is and outlying island, logistic operation for bike transport is much harder; therefore,
early bookings of relevant tickets are highly recommended during traditional busy seasons.
3.Outlying Island activities can be easily affected by unpredictable weather conditions, organizers can
adjust tour schedule base on the condition of weather.


131km

Sports
expenses explanation:
Double

NT

13600

/person

Single

NT

16800

/person
Features

37km
Penghu-Siyu Lighthous
Day 1: Taiwan-Penghu transportation is self-care, feel free to choose between air or sea!
Advice for boat: Boat schedule at Budai Harbor has a lot to choose, simply arrive at Magong Harbor around 11:40 and hotel is just 700 meters away by foot.
Advice for plane: arrive at Magong around 11:00, then take a taxi to hotel.
------------------------------------------------------------------------------------------------
Group assembly: 12:00 at HaiYue Hotel, Magong City
Bus: Leave luggage at the hotel→ Lunch → Erkan tribal houses → West Island Castle → Yuwengdao Lighthouse.
Cycling: 1600 Yuwengdao Lighthouse → Takuoyeh Basalts → Tongliang Banyan Tree → Hotel 18:30 → Check in → hotel break → Dinner 19:30 → Magong City 2100 → about one hour walk back to the hotel.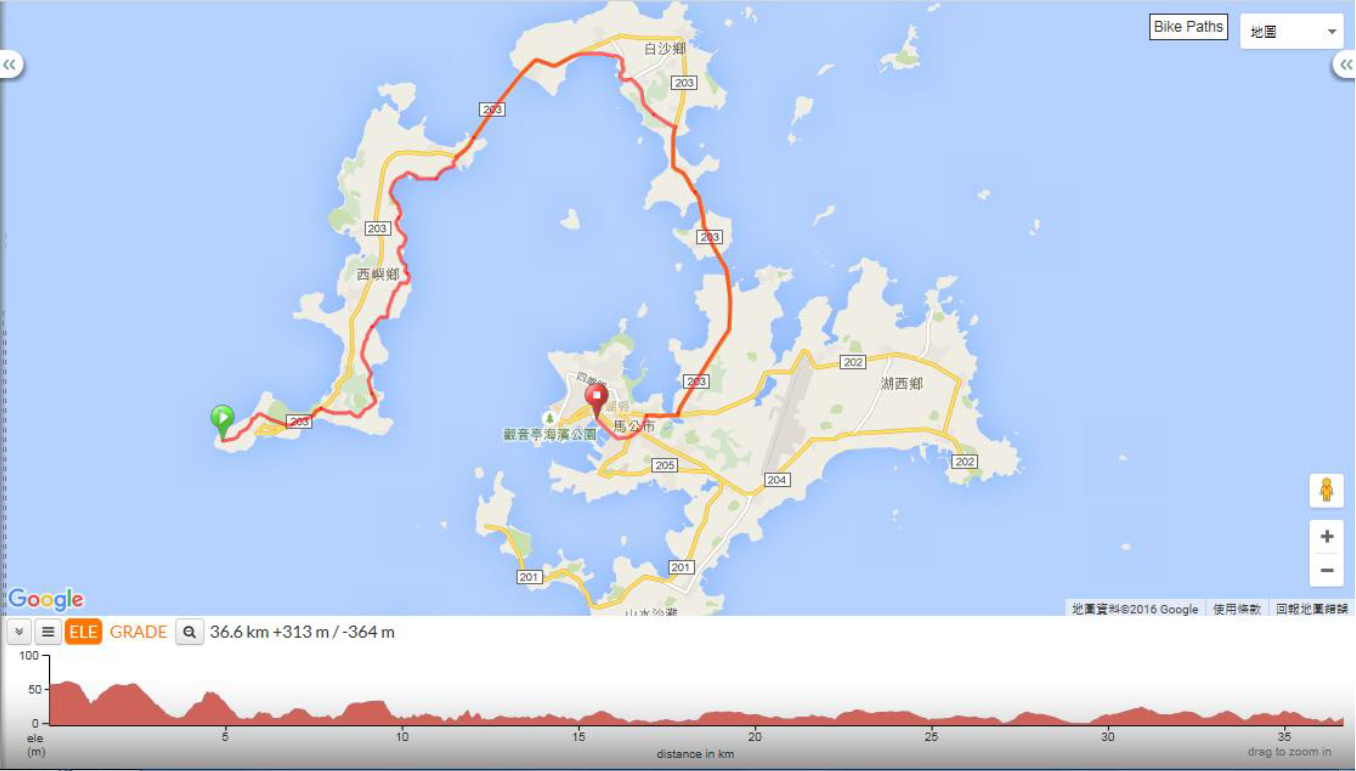 Breakfast: On own / lunch: HoYuan Restaurant / dinner: Changchin Restaurant

28km
Island hopping cycling: Tungji Island, Cimei
Penghu-Island hopping cycling: Tungji Island, Cimei
Day2: Hotel→South Sea Cycling with chartered boat (distance 28Km/day)
07:30 Assembly and depart:
Morning: Tungji Island cycling (four islands of the south-Marine National Park)
Afternoon: Cimei Island Cycling (Twin-Heart Stone Trap), Tungpan Island Basalts.
Back to Magong Harbor around 1800 and Hotel dinner at 1930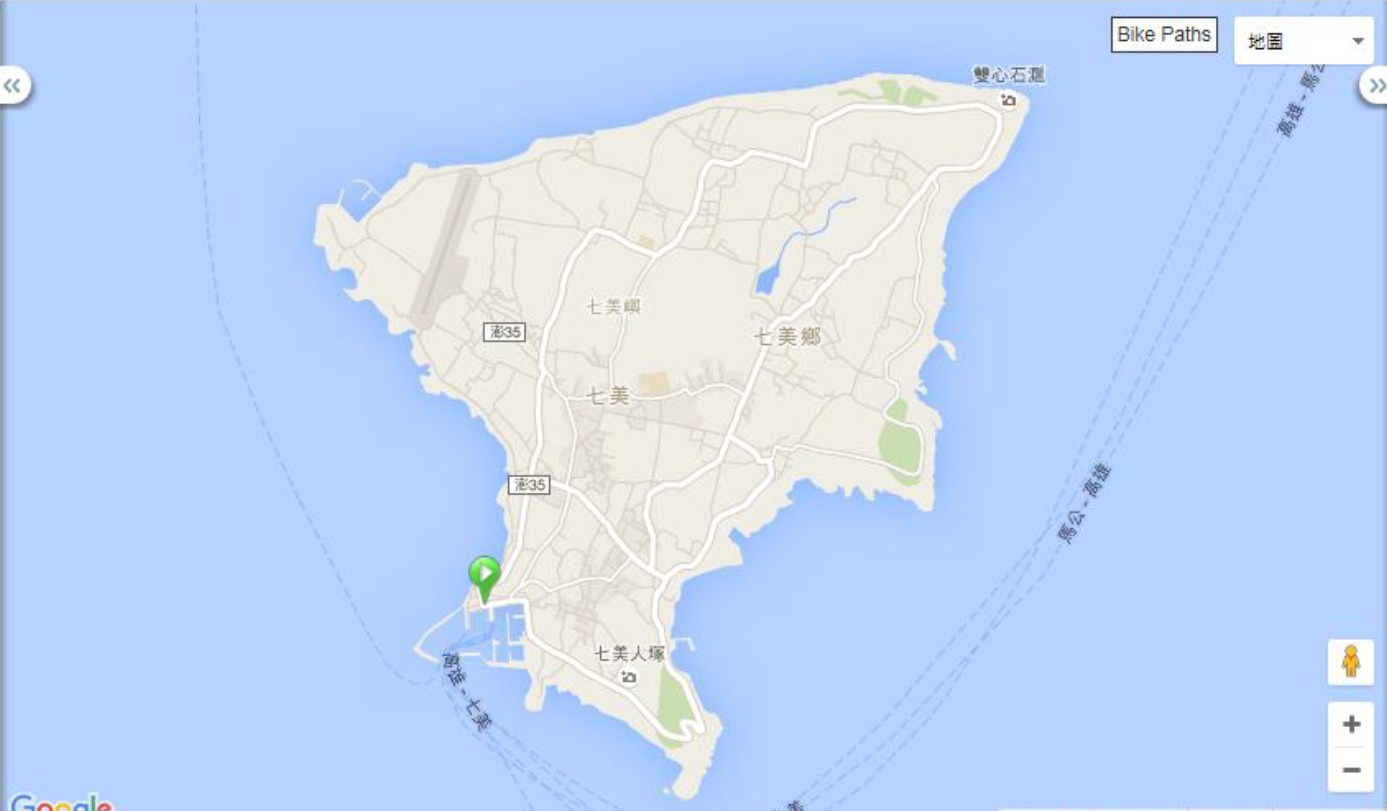 Breakfast: Hotel / lunch: Cimei Fish Village / dinner: A Dong seafood

15km
Magong Cycling
Day3: Cycling at Magong
0800 Group assembly → Cycling: Magong City tour (Shiwei bike lane, Guanyin Pavilion, Veteran village, Shun City Gate, Mazu temple, Central Street) → Hotel wash up and check out.
Bus: Lunch→Aimen Beach→ Group farewell at airport or harbor.
Plane/boat after 14:30 is suggested
Breakfast: Hotel / lunch: Huatsaikan Restaurant / dinner: Self-care
Remarks and Notices
Snacks, Bike and helmet rental ,bike repair, support van, luggage van, and video recording of selected tour events(for download only, no CD available).
Tips of staff.
Accommodations, meals, admission tickets during the tour.
Travel liability insurance (including benefits for medical expenses of up to NT$200,000) has been obtained for this activity. When applying for any claim, please also provide with a medical certificate and an original copy of the receipt.

Travel liability insurance coverage is only limited to accidents. The insurance coverage does not include any accident occurring due to a participant's health conditions. If you think the coverage is insufficient, please obtain additional insurance, such as travel safety insurance, overseas emergency disease and health insurance, etc.
Personal expenses, such as beverages, alcohols, shopping…, and so forth.
Personal traveling insurance: One may purchase any other additional travel insurances to fit your needs.
Expenses items not listed within the tour package and other suggested, one's own or independent tour costs.
Support Van: efficient support van resupply services, bicycle delivery, and bicycle storage
Bicycle repair and maintenance: professional technician and tool offers you a carefree cycling tour
Safe Cycling: professional cyclists help manage the trip and accompany you all the way
Cycling Tour Guide: Local attractions introduction
Travel Services: traffics and accommodations arrangements
Travel recording: complete cycling tour photography services
Bicycle Rental Service: high end Giant bicycle rental available
Please inform us your height/weight upon registration for necessary bike arrangements. Name and phone number for one's emergency contact purposes are also required.
Tour participants:

Over 11 years old or height 145cm and above is suggested

.

and please summit Parental Agreement Form if you are under age 20. (Legal representative is required to accompany the participant under age 15 during the tour)
Schedules and meals are subject to change to meet the needs of participants and weather condition.
Accommodations and cycling routes are subject to change. Please refer to notices published on Giant Adventure official website. In the case of accommodations change, changes will only be made to hotels of the same level.
Giant remains the explanation right of the tour and right for itinerary change if the weather or similar situation doesn't allow certain schedule. Refund will NOT be given for participant who leaves or terminates the tour on his/her own.
Cycling tour requires certain personal fitness; please take your own fitness level into consideration. People who have chronic or acute diseases are not suggested to participate. (such as cardiovascular disease)
If the insurance coverage isn't enough, participants are welcome to purchase additional insurance coverage to meet your need. Travel liability insurance coverage is only limited to accidents. The insurance coverage does not include any accident occurring due to a participant's health conditions. If you think the coverage is insufficient, please obtain additional insurance, such as travel safety insurance, overseas emergency disease and health insurance, etc.
Travelers have the obligation of disclosing their health conditions and providing with the medical certificate upon the request of the travel agent. As you need to have sufficient physical energy to complete the activity, we suggest that you should adjust fitness by starting training yourself 2 weeks prior to the activity.
Health Conditions Survey (Please disclose based on your health conditions.)
For the safety of your travel and the interests of all tour members, if you are pregnant or suffer, or have suffered, from any severe diseases, including but not limited to cardiovascular disease, brain diseases, cancers, musculoskeletal system and connective tissue diseases, respiratory diseases, chronic diseases, infectious diseases, alcohol or drug addiction and physical disability, please disclose faithfully before registering for a tour. If you suffered from any of the aforementioned diseases before and have been cured, you are still required to disclose faithfully. Please consider your health conditions before registering for a tour, or ask your family or friend to accompany you during the tour. As a cycling tour is a long-distance challenge with a high level of exercise intensity, participants are required to disclose their health conditions faithfully. If a participant has any accident due to his or her health conditions in any activity during the tour, the participant is willing to be solely held liable and such accident shall be irrelevant to the company.
【Consent form of security assurance of physical condition】
I confirm that the health of the body is normal, and have no individual special physical, pregnancy, cardiovascular and other diseases, and through careful consideration, I voluntarily participate in the activity held byGiantTravel Agency (shares) Company, I know the content of the activity and the risk before the activity, and strictly comply with the notice of the activity and the reminder of the team leader. During the activity, if the risk occurs due to personal factors, I am willing to bear all the responsibility, and agree to the terms of the above refund; if there is an accident, I would like to follow the provisions of the insurance company, and handle the application procedures to accept insurance claims. And at any time pay attention to my own physical condition and the security to participate in the activity; in case of sudden and irresistible reasons, or continued medical problems caused by insanity, drug allergy, or other medical behavior, or autoimmune disease, any personal or financial loss arising from any condition or derivative of a travel liability insurance policy, I agree to be fully accountable, which has nothing to do with Giant Travel Agency, and the consent form is hereby made for verification.
【Overseas Travel – Notice of Safety Insurance】(for people who are not staying with the group for the whole trip)
I fully understand that I am responsible for obtaining my flight ticket and meeting the group members at the designated place, and that travel agency liability insurance coverage is not applicable to me in this trip. As the result, the travel expenses that I pay for this trip do not include any insurance. I will obtain necessary personal travel safety insurance on your own in the place of departure.