Formosa 900-Tour de Taiwan - From Taichung (9 days & 8 nights)
Our professional team will surely make your dream come true~
Round-the-Island may be a challenge, yet not as difficult as you imagine.
Giant provides you comprehensive equipment, resources, and services.
Accompany your completion of cycling tour in Taiwan.

【Total Trip Distance: 910 KM — Average Speed Per Hour: Approx. 20-25 KM】

☆Please kindly follow the instructions below during your participation of the event:
*There will be 2 free commemorative jerseys as group uniforms; please wear them during the entire process of the event!
*Please refer to the following sizing chart for your jersey selection.


Attending the Tour de Taiwan can get one Giant bicycling jersey for free. ☆You can rent an E-bike if necessary.
2020-11-07(Sat)
2020-11-15(Sun)
910km

Advance
expenses explanation:
Quadruple

NT

27000

/person

Triple

NT

30500

/person

Double

NT

32000

/person

Single

NT

42000

/person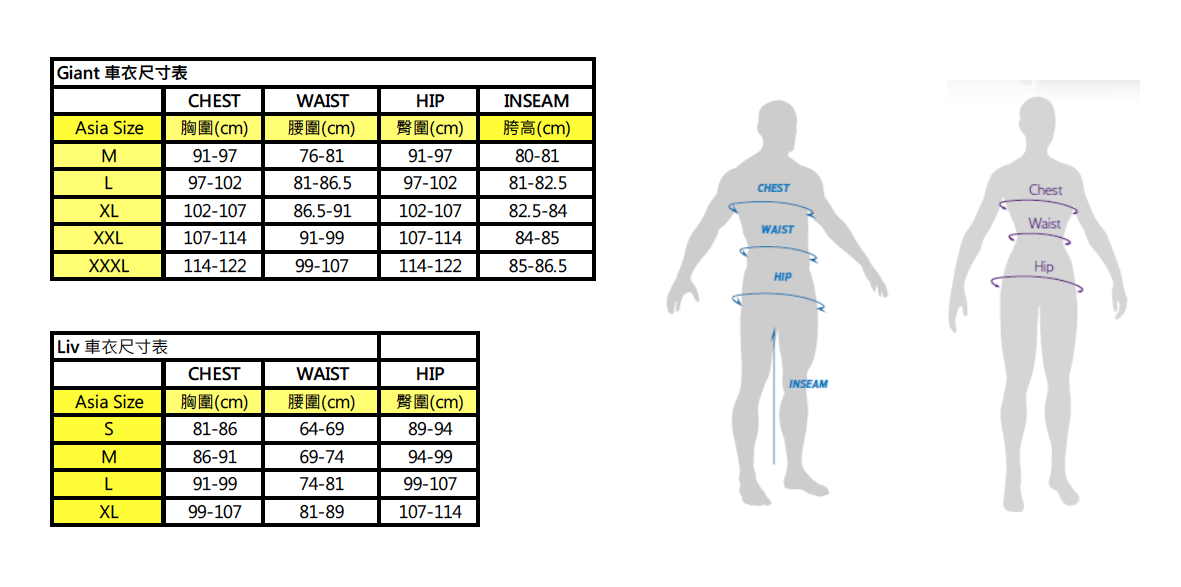 Features

92km
(Provincial Highway No. 1) Taichung-Changhua-Xiluo Bridge-Dounan-Minxiong-Chiay
☆ Pick-up Location ☆ 07:30 a.m. Exit 3 at Taichung Station of High Speed Rail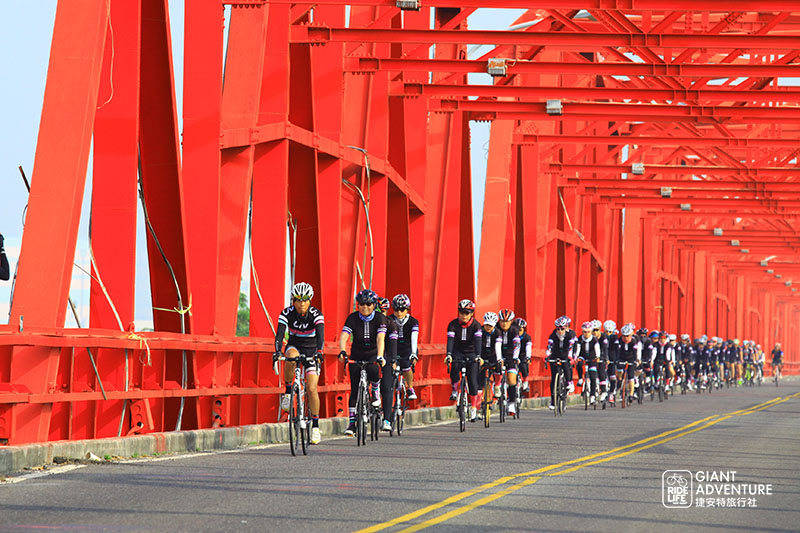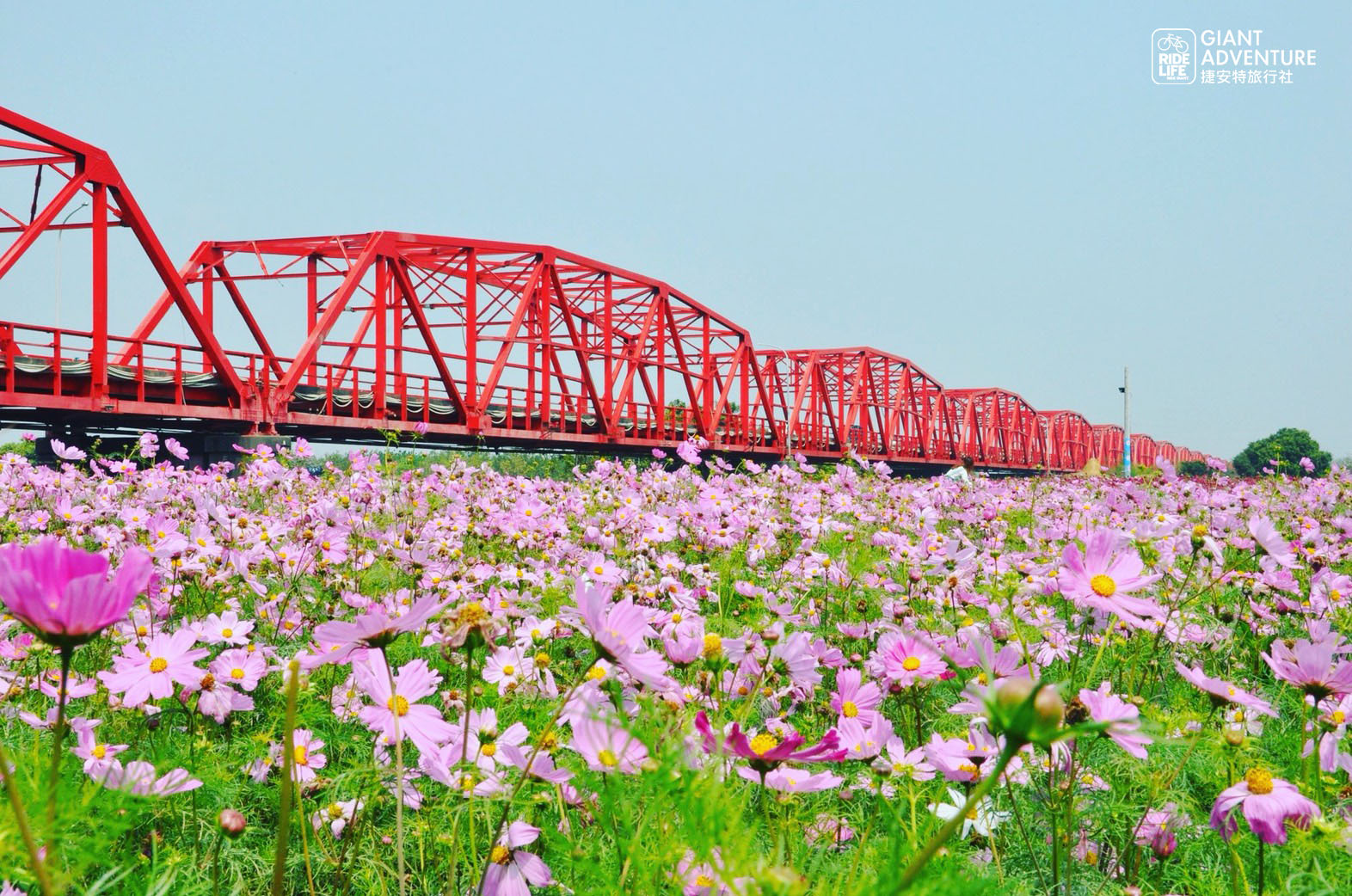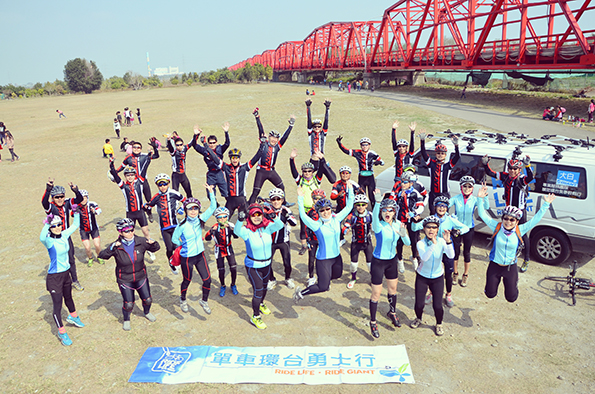 【Xiluo Bridge】
Xiluo Bridge With 1939.03 meters in length and 7.3 meters in width, the Bridge has 32 piers and 31 bridge openings. Made by steel and concrete, it applied Warren Truss design. Upon its completion, it was the second largest bridge around the world, second only to Golden Gate Bridge in San Francisco, the United States.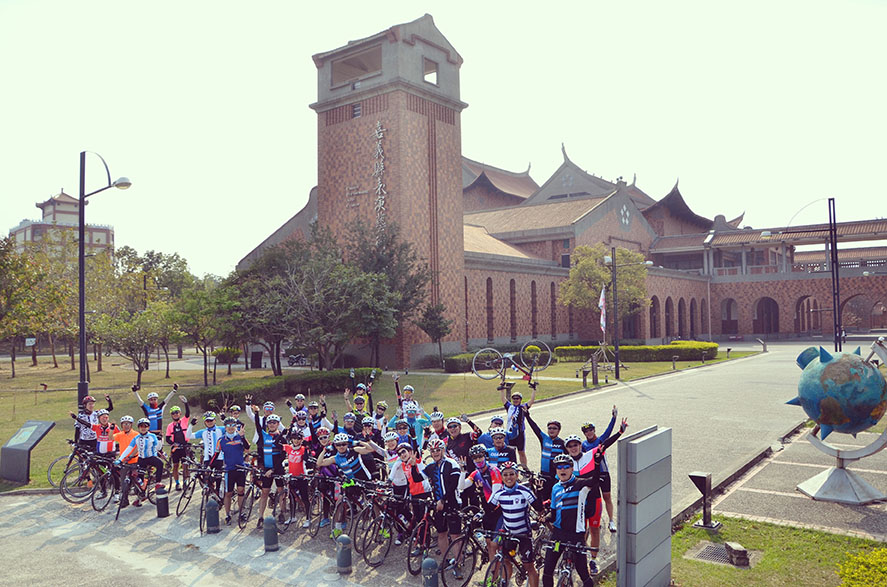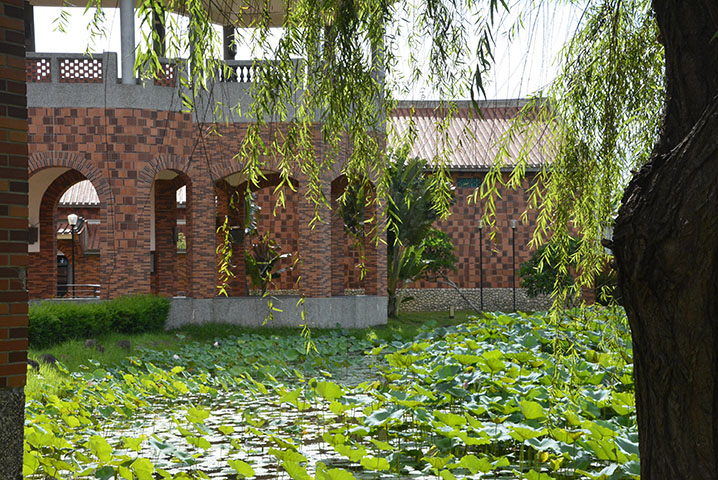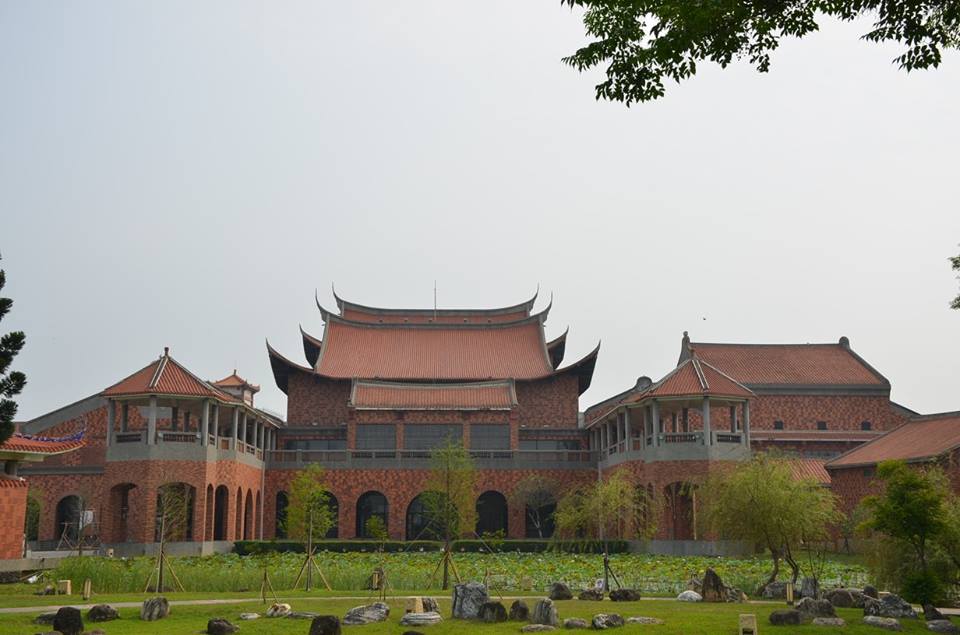 【Chyayi Performing Art Center】
PAC is the abbreviation of Chiayi Performing Arts Center、which also stands for its mission-Profession; Aesthetics; Cheers! The planning for Chiayi Performing Arts Center can be traced back to 1995、followed by construction project commencement in 1997. Because of lack of funds due to many reasons、the project was suspended twice in 1998 and 1999. All of the construction was completed in 2005.
Breakfast: Purchase on own / lunch: Xiluo Qinlian Rice Cake / dinner: Local featured flavors restaurant

125km
(Provincial Highway No. 1+ Provincial Highway No.17)Chiayi-Tropic of Cancer—Tainan ─Kaohsiung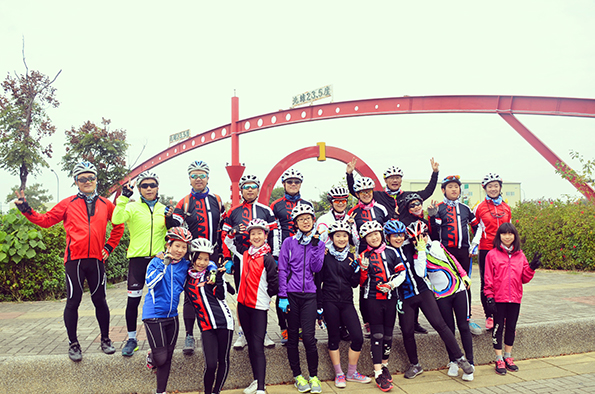 【Tropic of Cancer】
At the time of the summer solstice, when the Northern Hemisphere tilts toward the Sun to its maximum extent, it's the height of the summer. The sun reaches its highest point in the sky at midday. Then the point moves toward the south, and moves regularly between 23.5 degrees north and south latitudes. They are called the Tropic of Cancer and Tropic of Capricorn.

【Tsung-Yeh Sugar Refinery】
Nan Ying Tsung-Yeh Arts and Cultural Center is located in Matou on the site of the previous Tsung-Yeh Sugar Factory, which had been built by Lin Po and others. In December 1907, through political force, this Sugar Factory was purchased by Mitsubishi Group, which had great success managing it, making it number One in the sugar industry. Mitsubishi has three sugar factories in Japan, one in Shanghai, and seven in Taiwan, including.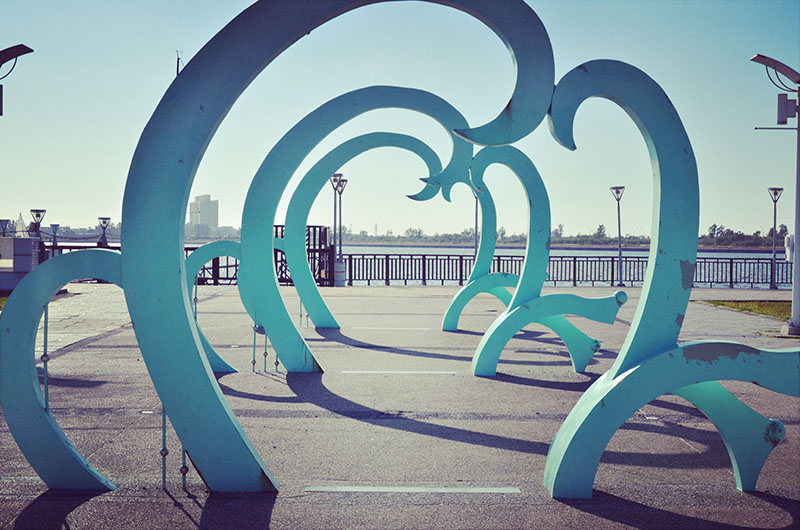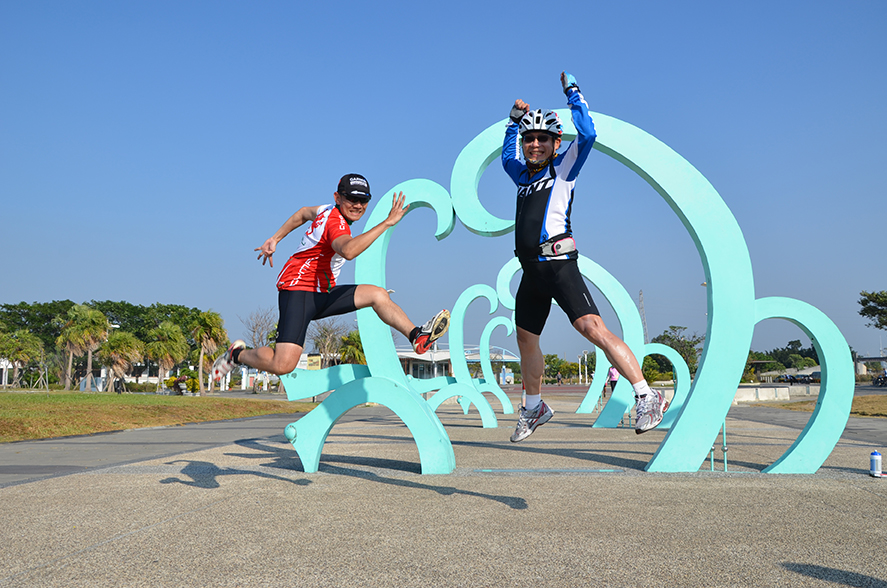 【Cieding Love Wharf】
After the Coastal Recreation Zone, Cieding Township has a new recreation spot. Themade the dream of embracing the ocean come true for the residents of Kaoshiung and gave Shingda port a flair of romance.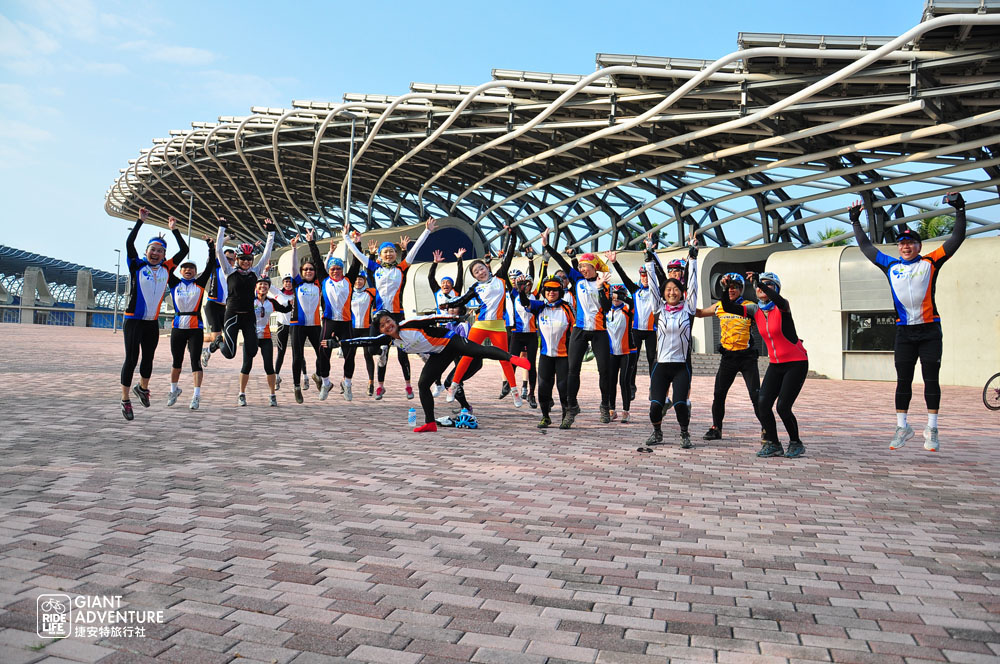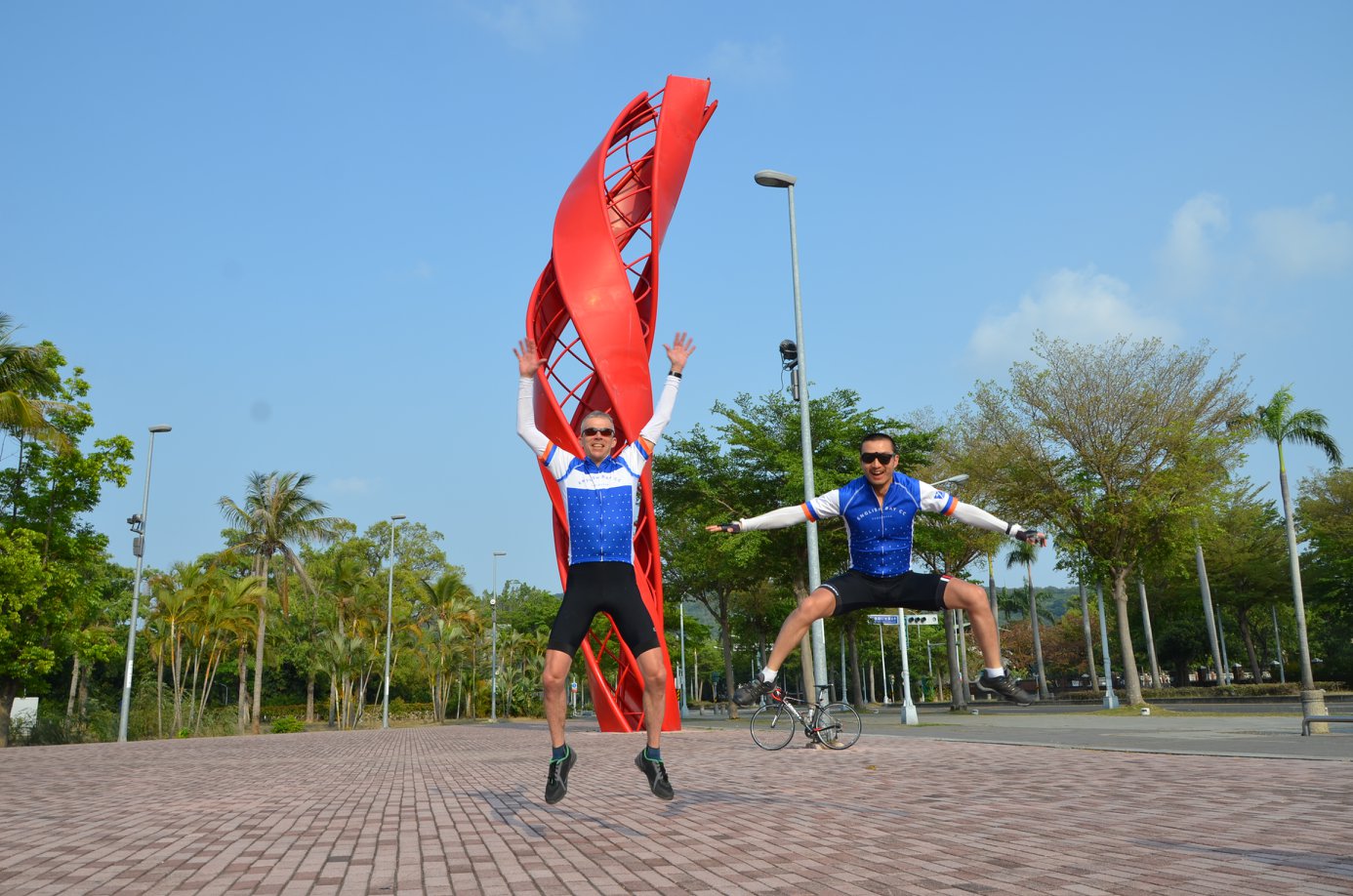 【World Games Main Stadium】
After winning the right to host the 8th World Games in Kaohsiung, Kaohsiung City immediately launched an extensive program to have the city's software and hardware infrastructure ready by 2009. This will be the first athletics field in Taiwan with a world-standard 400m running track capable of holding 40,000 people; a temporary stand capable of holding 15,000 people will be built as well.
Breakfast: Hotel / lunch: Local featured flavors restaurant / dinner: Shared dishes served by hotel

110km
(Provincial Highway No. 1 + County Road No. 188 + Provincial Highway No. 26 + County Road No. 199 )Kaoshiung-Chaozhou-Fangliao-Fenggang sea view-Checheng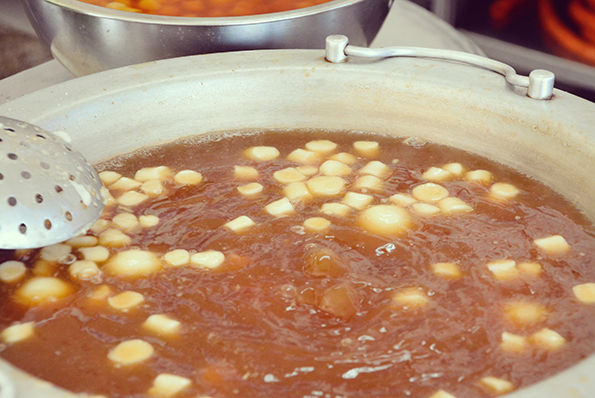 【Shaved Ice with Hot sweet soup】
Let's have the Chaozhou shaved ice with hot and glutinous rice ball inside.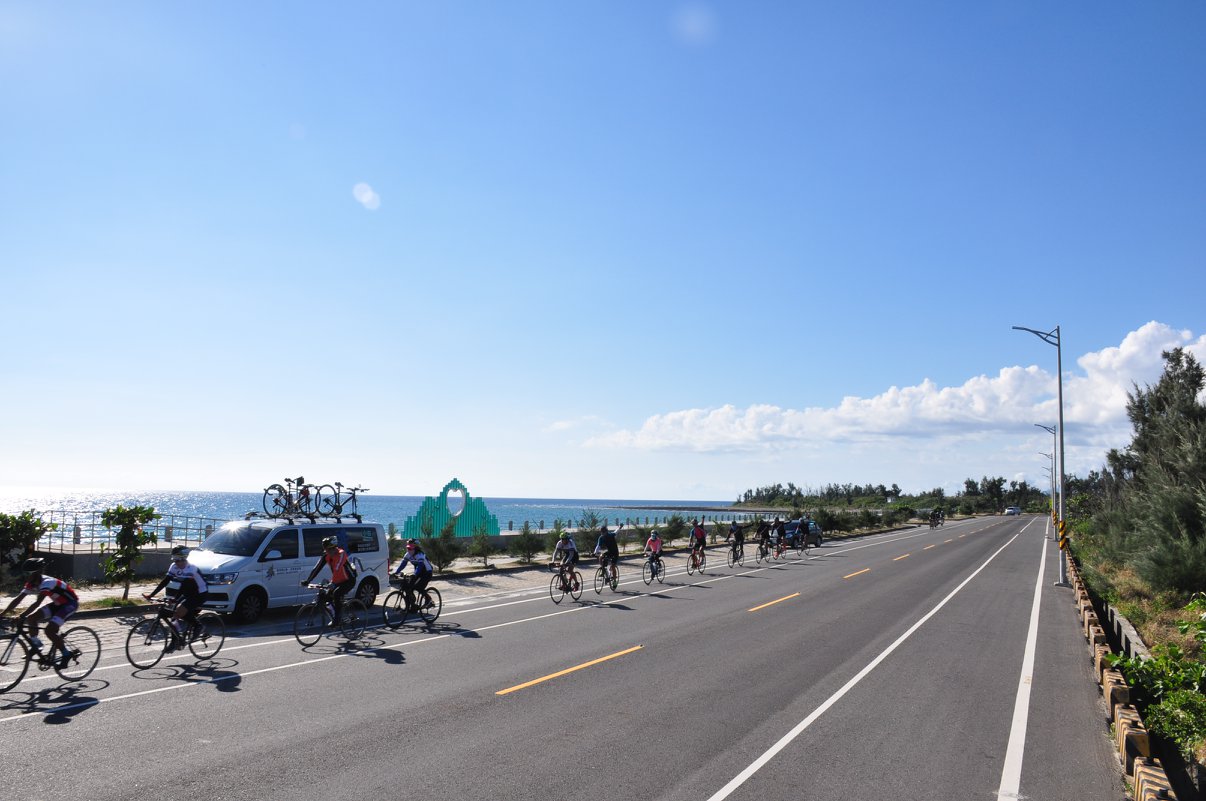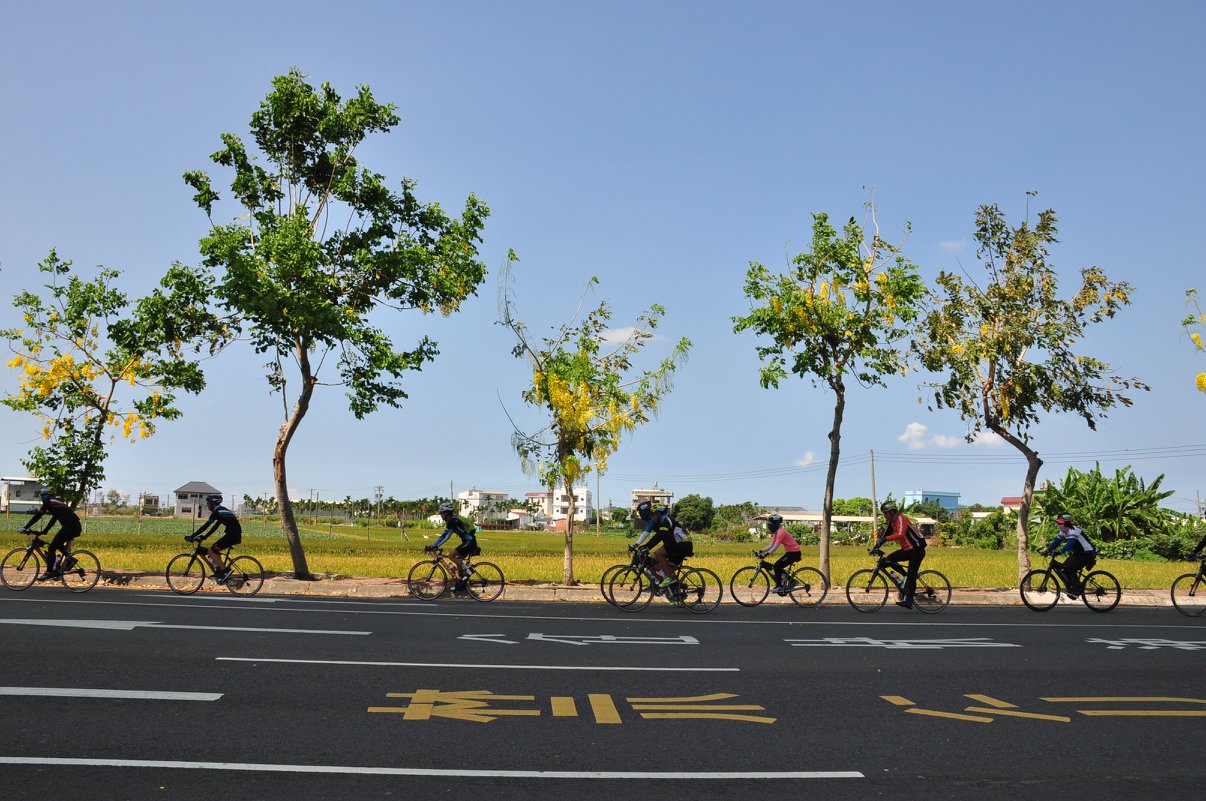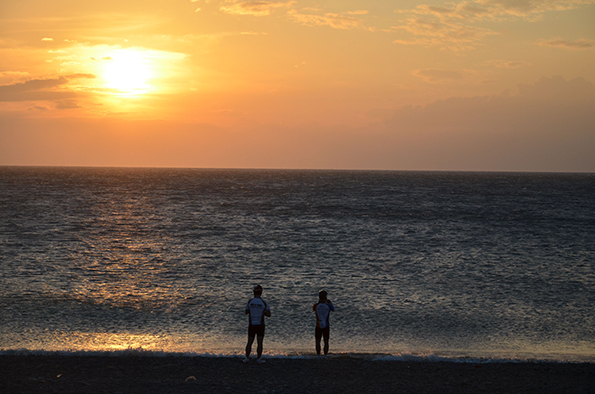 【Provincial Highway No. 26】
The highway is also known as Ping-E Highway for the stretch between Fangshan and Cape Eluanbi in Kenting National Park. It is the primary highway to Kenting National Park and the beaches in Kenting. The route length is 93.5 kilometers.


Breakfast: Hotel / lunch: Local featured flavors restaurant / dinner: Shared dishes served by hotel

100km
(County Road No. 199 + Provincial Highway No. 9) Checheng -Sizhongxi-Mudan-Tungyuan Wetlands-Shouka-Dawu sea view-Jinlun-Zhiben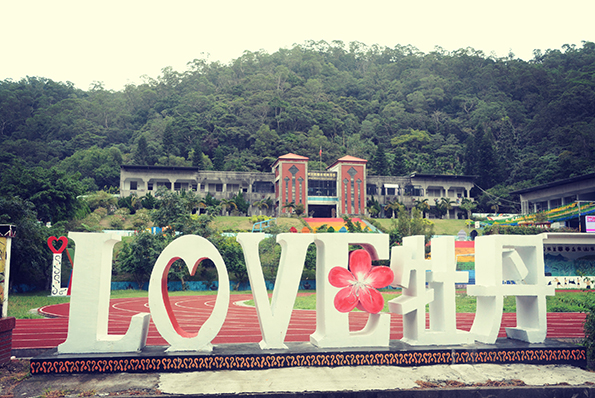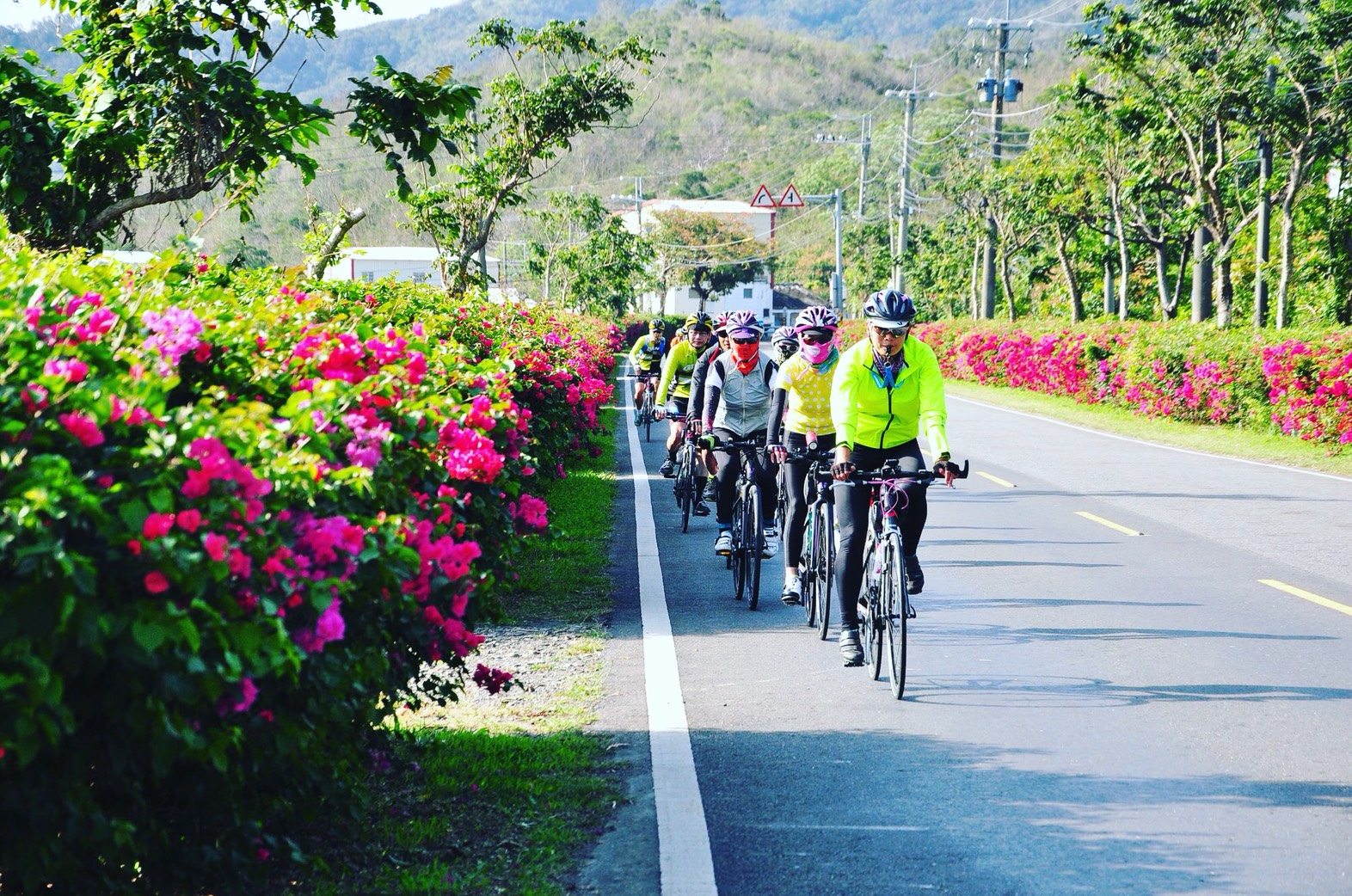 【County Road No. 199】
Ride from 0 meters above sea level to about 450 meters. Please ride cautiously to reach Mudan Reservoir. We take a break here and enjoy the aerial view of Paiwan aboriginal tribe. Then we ride to the Tungyuan Wetlands and reach to the top called Souka.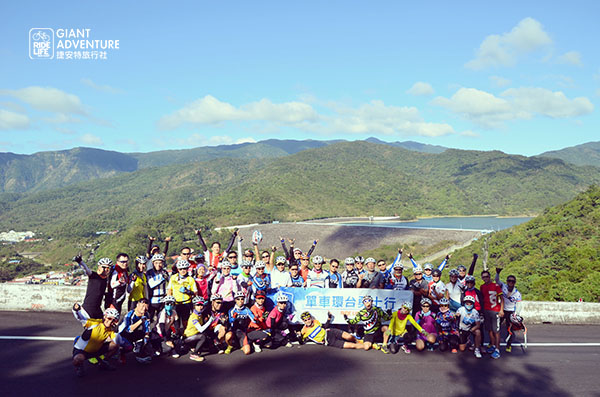 【Mudan Reservoir】
Mudan Reservoir is the largest reservoir of Pingtung County. It is surrounded by mountains with a charming view.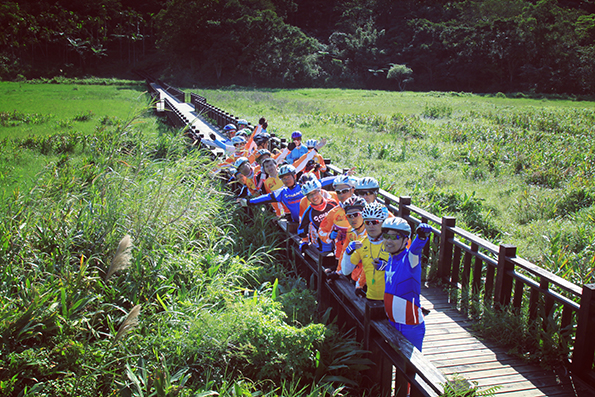 【Tungyuan Water Grassland】
Unique and Rare wetland topography in Taiwan, with the Bareet grass tangle together and dancing with the wind from time to time. Remember to bring spare clothes, scandal here, it's amazing experience to barefoot into the wetland to dancing with the grass.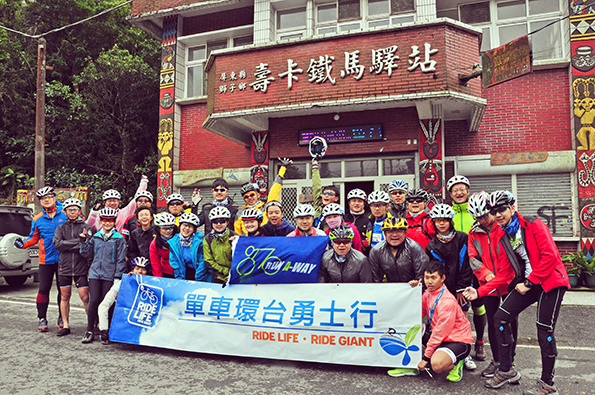 【Shouka】
It's the crossing point of Provincial Highway No. 9 and County Highway No. 199. It's famous and popular for photo taking.

【Zhiben Hot Spring】
The springs in this area are carbonic acid springs, are colorless and odorless, and have a temperature of more than 100 degrees Celsius. Hot springs are supposedly good for treating skin disease, arthritis, and neuralgia. They also stimulate blood circulation and relax muscles.
Breakfast: Hotel / lunch: Tongfashun Seafood Restaurant / dinner: Tian-ma-ma Restaurant 

125km
(Provincial Highway No. 9 + County Road No. 193) Zhiben-Beinan-Luye-Chishang-County Road No. 193-Ruisui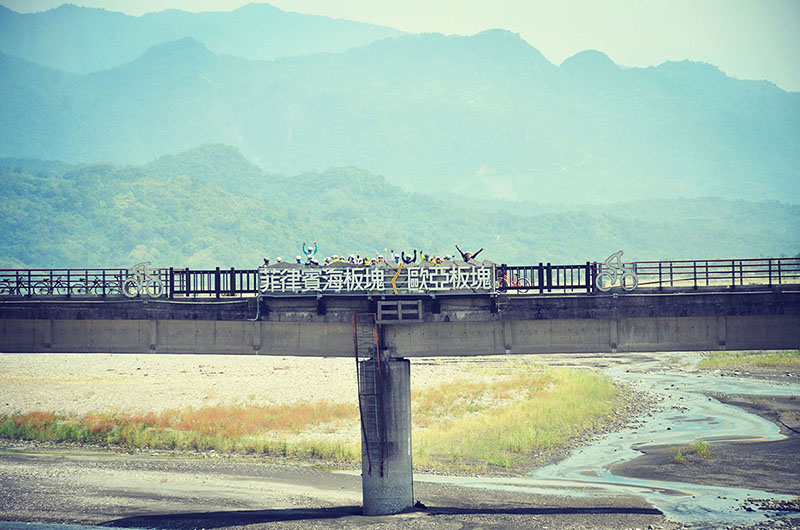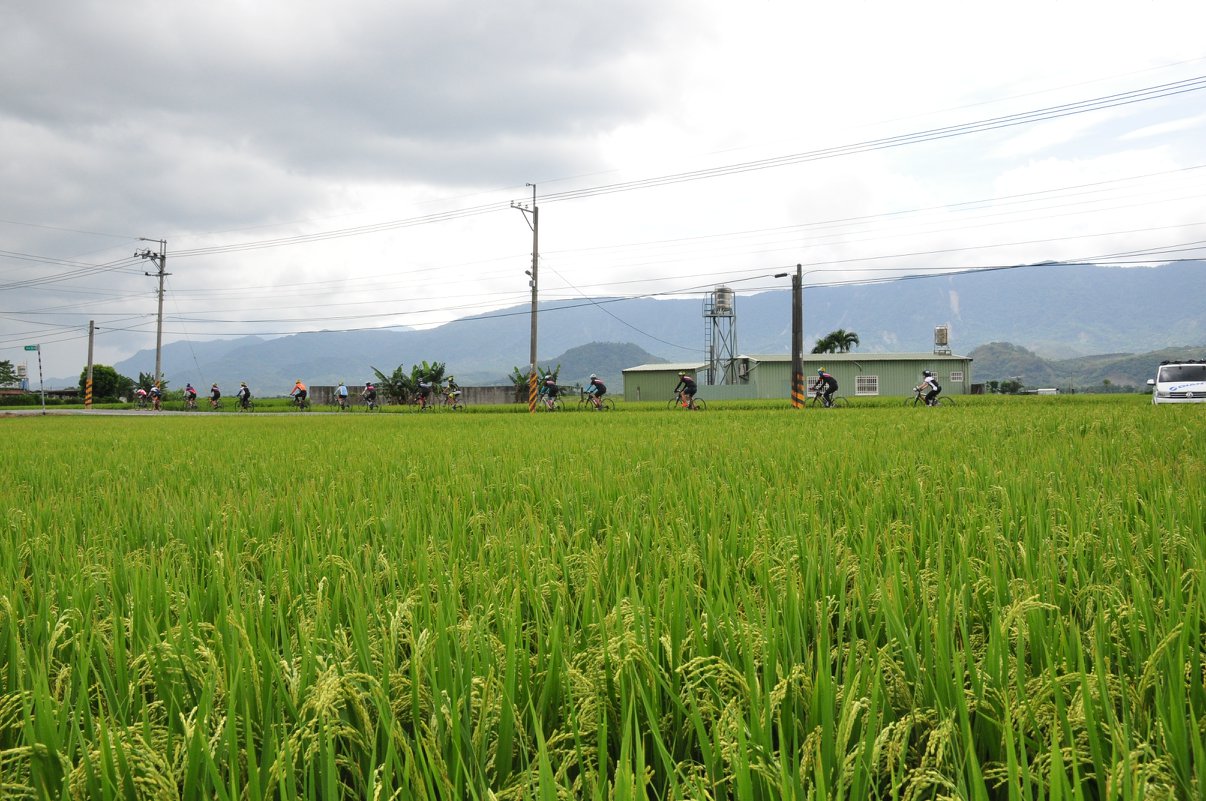 【The East Rift Valley】
It is a long, narrow valley flanked by the Central Mountain Range to the west and the Coastal Mountain Range to the east. This is where the Eurasian and the Philippine tectonic plates collide, resulting in the creation of many fault lines.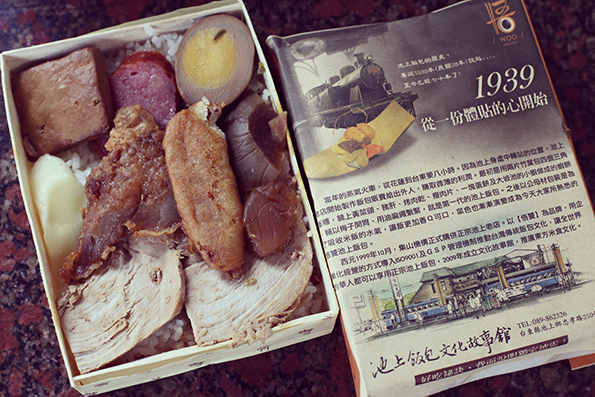 【Chishang Rice Bian Dang】
It's the specialty of Chishang County of Taitung. Chishang was named "Xin Kai Yuan" in Qing Dynasty, with the meaning of newly established farm. During the Japanese Ruling Period, most of the residents lived in Dapochi, so it was renamed "Chishang", meaning "on Chi" in Chinese. There are three special features of Chishang Bian Dang: cooked with Chishang rice, packed in wooden box, and served with dry side dishes.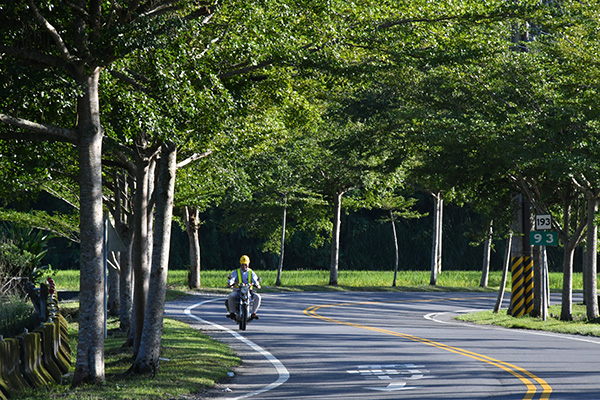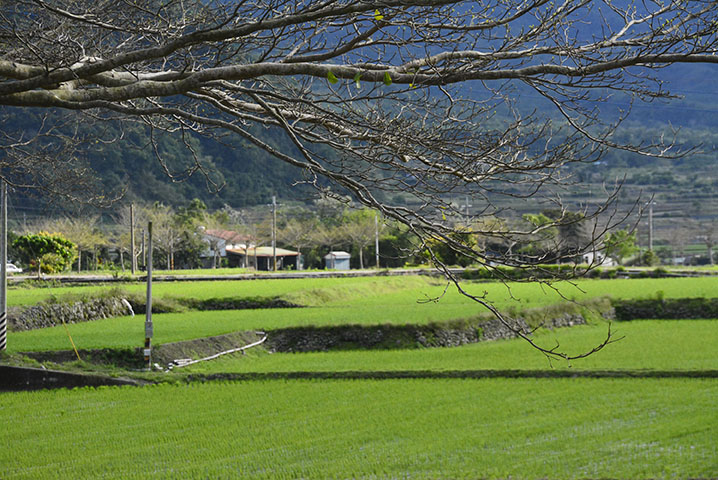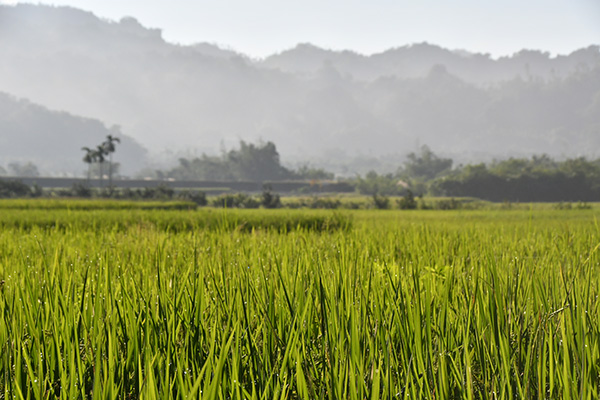 【County Road No. 193】
It is the longest County Road in Taiwan, parallel with the East Rift Valley (Provincial Highway No. 9) and East Coast Road (Provincial Highway No. 11). It's the best route for cyclists. Along the smooth road and countryside path, let's take photos with the beautiful landscape.

【Ruisui Hot Springs】
The temperature of the Ruisui Hot Springs is about 48°C. The water is of a low-alkaline "Chloride-carbonate" type, and is also abundant in minerals such as iron and barium. After the water's iron content has oxidized into the atmosphere, a layer of muddy, yellow crystallized matter with a light, rusty aroma is left on the surface of the water.
Breakfast: Hotel / lunch: Chishang Bian Dang / dinner: Gourmet set meal

81km
(Provincial Highway No. 9 + Provincial Highway No.11-C + Railway) Ruisui-Guangfu-Fenglin-Railway-Yilan-Jiaoxi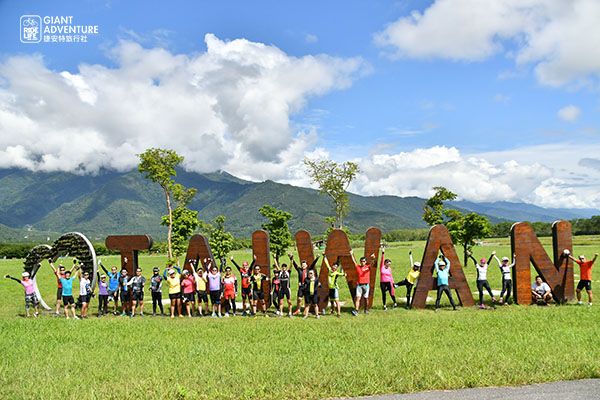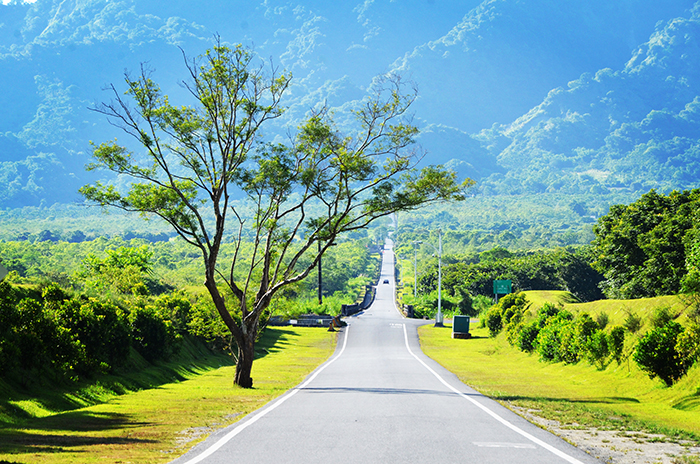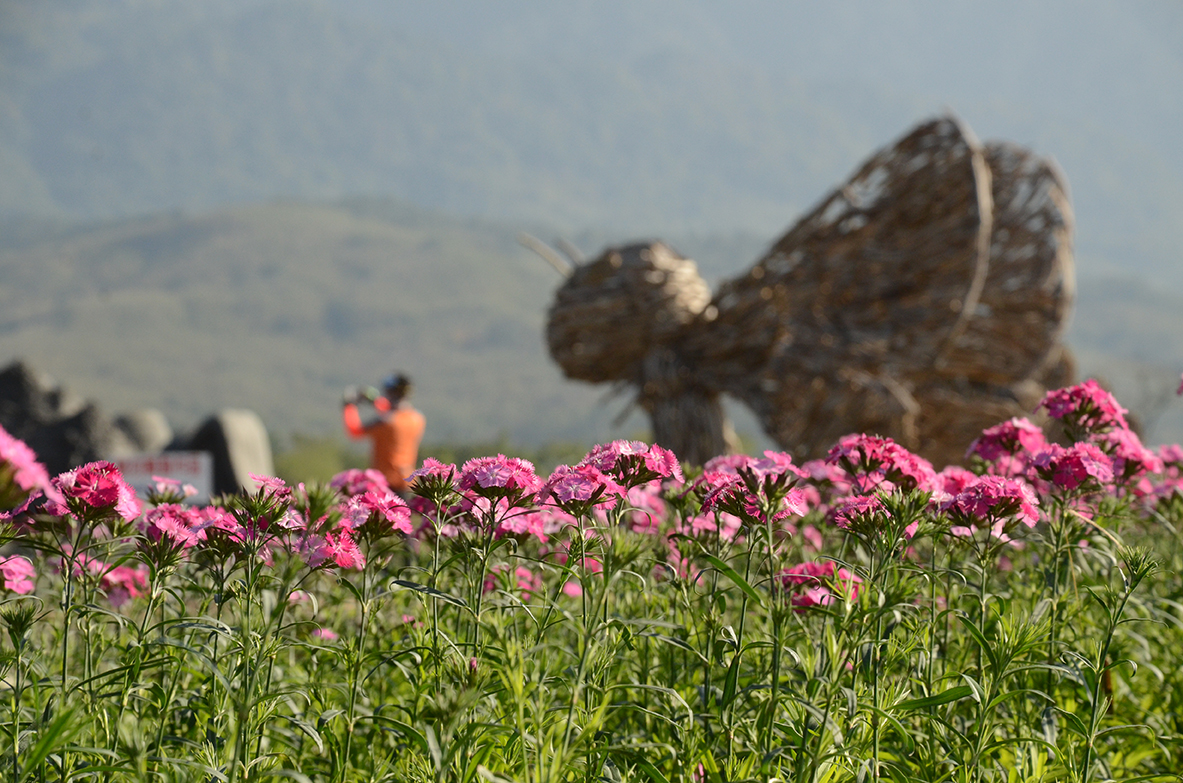 【Danongdafu Forest Park】
Covers an area of vast, about 1,250 hectares, boasting mesmerizing sceneries and recreation features. The park also features various recreation facilities such as bicycle trail, pond, walk path and many other family-friendly features.
【Jiaoxi Hot Spring Area】
The reason is that the magma flowed out of the volcano during the 30,000 years ago still remained under the ground, resulting in high temperatures in nearby underground rock formations, and the Jiaoxi was just within the volcanic eruption. Therefore, near the Jiaoxi Railway Station gathered in nearly a hundred hot springs hotels, restaurants, hot springs to form a special scene.
Breakfast: Hotel / lunch: Bian Dang / dinner: Purchase on own

76km
(Provincial Highway No. 2)Jiaoxi-Fulong-Shihfen-Taipei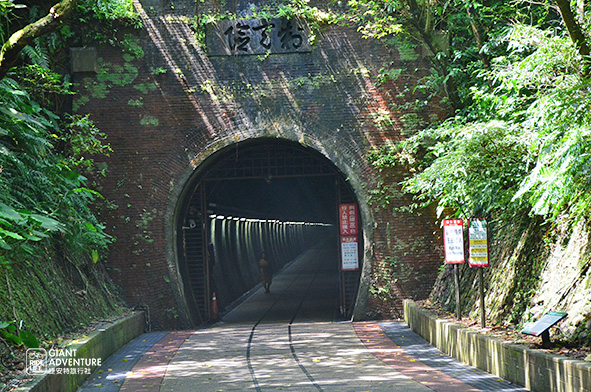 【Old Caoling Tunnel】
The 2,167-meter Old Caoling Tunnel linked up Fulong and Shicheng in the past. It was built during the Japanese Occupation as part of a railway project to ease traffic difficulties between Yilan and the greater Taipei area. Years later in 1986, a New Caoling Tunnel was constructed because the single-track old tunnel was too small to use. The Old Caoling Tunnel had since been abandoned for nearly two decades.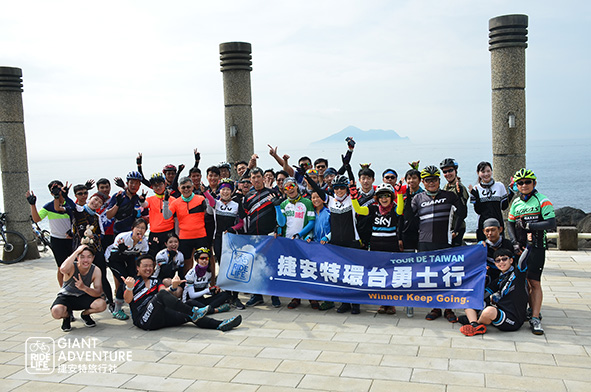 【Fulog】
In front of the Fulong Train Station, visitors will see many lunch box stores, which have become the most well known local specialty. Since Fulong is located at the center of the Northeast Coast National Scenic Area, the Administration Center is also located here to offer help to tourists. Local recreational activities and scenic spots include the Fulong Beach, a bike path and the Longmen Camping Site.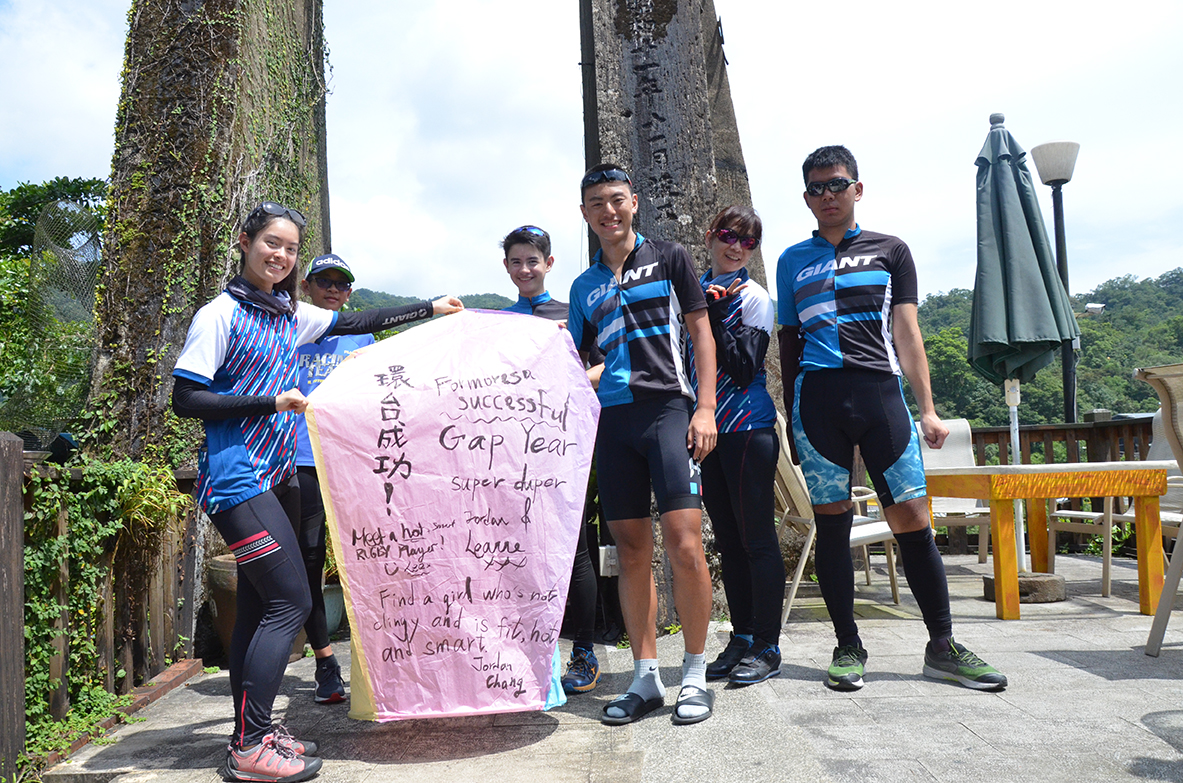 【Sky lantern of Shifen, Pingxi Township】
The origin of the sky lantern; in the past, quite often there were bandits lurking in the area and villagers of Shifen would take refuge in the mountains. After bandits left, lanterns were used as a signal to tell villagers when it was safe to come back down to their village. Hence the lantern was also looked upon as a symbol of blessing and peace. Now walking along the streets of Shifen, here by the unique railroad track in front of the station, we once again, for blessing and peace, release the lantern to the sky .
Breakfast: Hotel / lunch: Local Hot Pot set meal / dinner: Purchase on own

90km
(Provincial Highway No. 3 + Provincial Highway No. 1) Taipei-Sanxia-Daxi-Xinpu-Hsinchu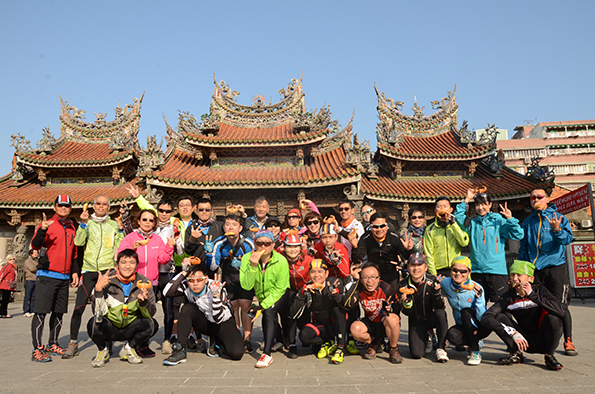 【Qingshui Master Temple】
It was built in 1769. The temple was destroyed by an earthquake in 1833 and was rebuilt in 1867. However, during 1895, it was burned down by the Japanese army. After World War II, the restoration was led by the renowned artist Li Mei Shu. The restored temple presents refined carvings and sculptures and it is the work of Taiwanese artists.
【Hsinchu City God Temple】
The Temple, located at Hsinchu City, is classified as a third-class historic site. In 1891, Master Chang in Qing Dynasty predicted a major catastrophe, and the City God Temple was suggested to be the worship ceremony location by local celebrity. So the City God of this temple was approved as the mighty deity. It had been the only province-class temple of its kind. The wooden carvings inside the temple, made by a master carpenter, Yishun Wang, were worth of the visit.
Breakfast: Hotel / lunch: Daxi Shuiyuandi Restaurant / dinner: Purchase on own

111km
(Provincial Highway No. 61 + Provincial Highway No. 1)Hsinchu-17-KM coastline-Tongxiao-Dajia-Taichung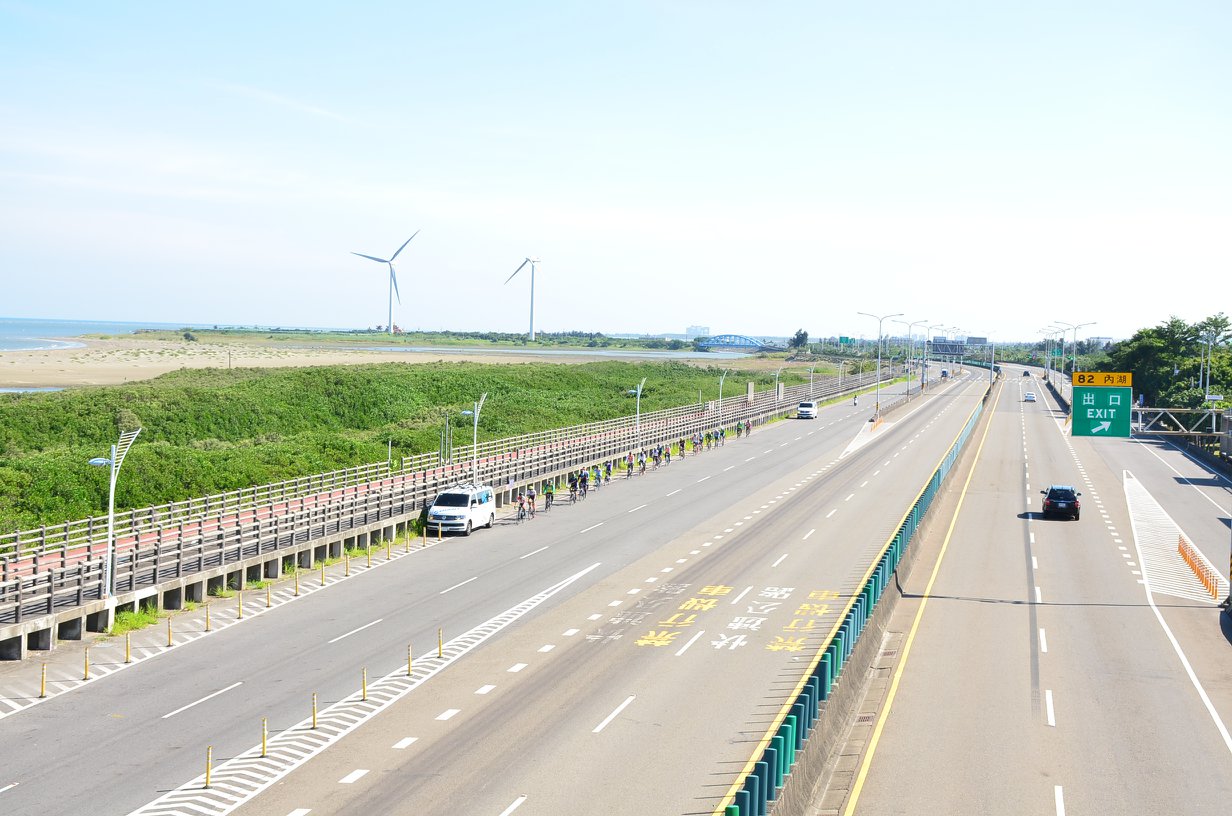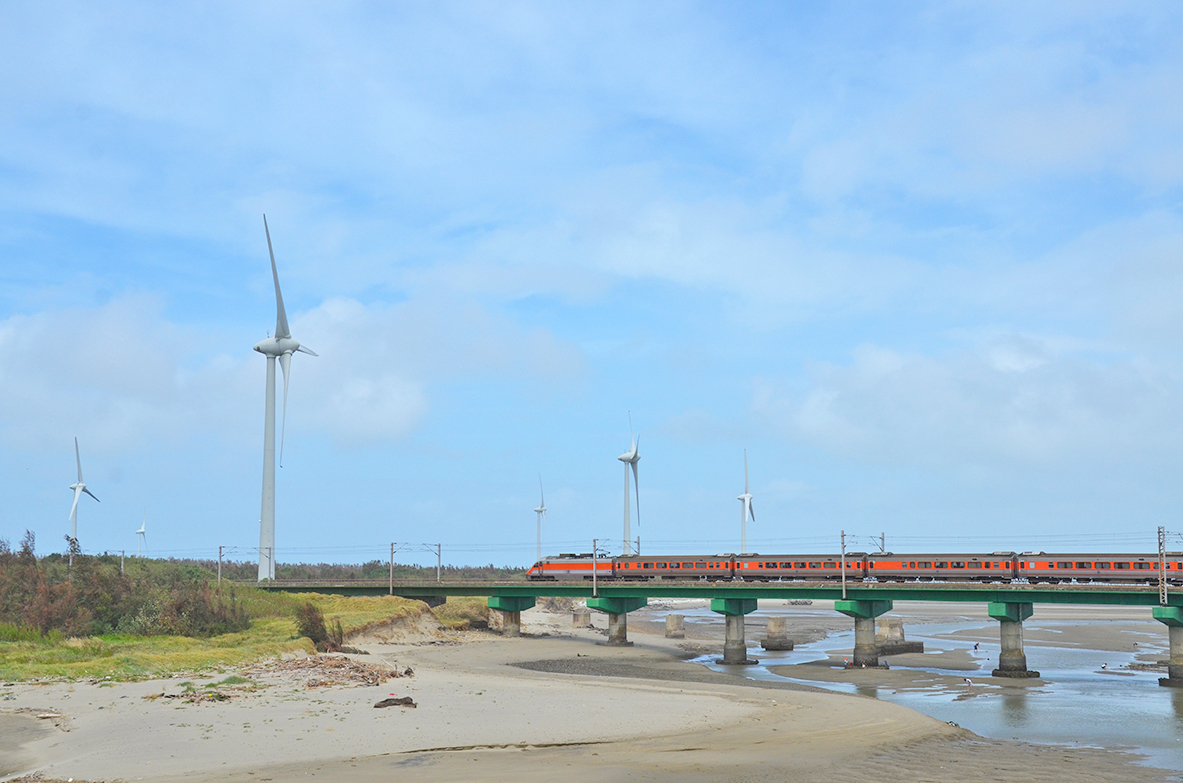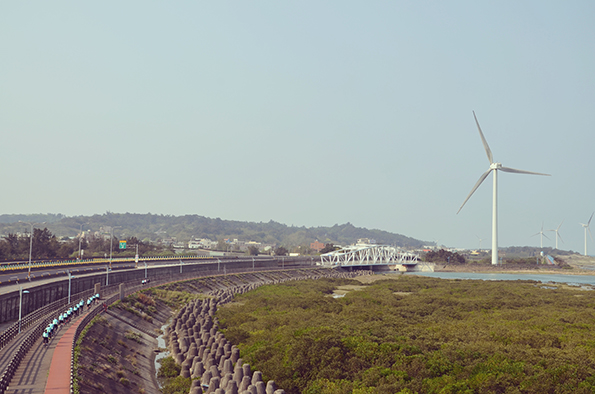 【Siangshan wet land】
Siangshan intertidal zone had been listed as part of the Eastern Asia-Pacific Water Bird Protection Network by the Ramsar Convention in 1996 and was also an important habitat for wild-bird conservation listed by international bird associations.

【Taiyen Tongxiao Tourism Factory】
It is the only salt industry tourist factory present in Taiwan. It's commitment to education in salt and water technology is promoted in a unique way as the factory itself and the surrounding attractions provide the public with both educational and recreational establishments.
【Zhuifen Station】
It was opened on 11 October 1922. There are two island platforms at Zhuifen Station. This is a wooden station and it is now one of city historical site.
☆ Dismiss Location ☆ Approx. 17:00PM at Taichung Station of High Speed Rail
Breakfast: Hotel / lunch: Yuanli Restaurant / dinner: Purchase on own
Remarks and Notices
Snacks, Bike and helmet rental ,bike repair, support van, luggage van, and photo shooting service and upload pictures to Google Drive daily. No longer making photo slideshow as usual.
Tips of staff.
Accommodations, meals, admission tickets during the tour.
Travel liability insurance (including benefits for medical expenses of up to NT$200,000) has been obtained for this activity. When applying for any claim, please also provide with a medical certificate and an original copy of the receipt.

Travel liability insurance coverage is only limited to accidents. The insurance coverage does not include any accident occurring due to a participant's health conditions. If you think the coverage is insufficient, please obtain additional insurance, such as travel safety insurance, overseas emergency disease and health insurance, etc.
Personal expenses, such as beverages, alcohols, shopping…, and so forth.
Personal traveling insurance: One may purchase any other additional travel insurances to fit your needs.
Expenses items not listed within the tour package and other suggested, one's own or independent tour costs.
Support Van: efficient support van resupply services, bicycle delivery, and bicycle storage
Bicycle repair and maintenance: professional technician and tool offers you a carefree cycling tour
Safe Cycling: professional cyclists help manage the trip and accompany you all the way
Cycling Tour Guide: Local attractions introduction
Travel Services: traffics and accommodations arrangements
Travel recording: complete cycling tour photography services
Bicycle Rental Service: high end Giant bicycle rental available
Please inform us your height/weight upon registration for necessary bike arrangements. Name and phone number for one's emergency contact purposes are also required.
Tour participants:

Over 11 years old or height 145cm and above is suggested. And please summit Parental Agreement Form if you are under age 20. (Legal representative is required to accompany the participant under age 15 during the tour)
Agreement are required for participants over 70 years old.(Accompany is required)

Schedules and meals are subject to change to meet the needs of participants and weather condition.
Accommodations and cycling routes are subject to change. Please refer to notices published on Giant Adventure official website. In the case of accommodations change, changes will only be made to hotels of the same level.
Giant remains the explanation right of the tour and right for itinerary change if the weather or similar situation doesn't allow certain schedule. Refund will NOT be given for participant who leaves or terminates the tour on his/her own.
Cycling tour requires certain personal fitness; please take your own fitness level into consideration. People who have chronic or acute diseases are not suggested to participate. (such as cardiovascular disease)
If the insurance coverage isn't enough, participants are welcome to purchase additional insurance coverage to meet your need. Travel liability insurance coverage is only limited to accidents. The insurance coverage does not include any accident occurring due to a participant's health conditions. If you think the coverage is insufficient, please obtain additional insurance, such as travel safety insurance, overseas emergency disease and health insurance, etc.
Travelers have the obligation of disclosing their health conditions and providing with the medical certificate upon the request of the travel agent. As you need to have sufficient physical energy to complete the activity, we suggest that you should adjust fitness by starting training yourself 2 weeks prior to the activity.
Health Conditions Survey (Please disclose based on your health conditions.)
For the safety of your travel and the interests of all tour members, if you are pregnant or suffer, or have suffered, from any severe diseases, including but not limited to cardiovascular disease, brain diseases, cancers, musculoskeletal system and connective tissue diseases, respiratory diseases, chronic diseases, infectious diseases, alcohol or drug addiction and physical disability, please disclose faithfully before registering for a tour. If you suffered from any of the aforementioned diseases before and have been cured, you are still required to disclose faithfully. Please consider your health conditions before registering for a tour, or ask your family or friend to accompany you during the tour. As a cycling tour is a long-distance challenge with a high level of exercise intensity, participants are required to disclose their health conditions faithfully. If a participant has any accident due to his or her health conditions in any activity during the tour, the participant is willing to be solely held liable and such accident shall be irrelevant to the company.
【Consent form of security assurance of physical condition】
I confirm that the health of the body is normal, and have no individual special physical, pregnancy, cardiovascular and other diseases, and through careful consideration, I voluntarily participate in the activity held byGiantTravel Agency (shares) Company, I know the content of the activity and the risk before the activity, and strictly comply with the notice of the activity and the reminder of the team leader. During the activity, if the risk occurs due to personal factors, I am willing to bear all the responsibility, and agree to the terms of the above refund; if there is an accident, I would like to follow the provisions of the insurance company, and handle the application procedures to accept insurance claims. And at any time pay attention to my own physical condition and the security to participate in the activity; in case of sudden and irresistible reasons, or continued medical problems caused by insanity, drug allergy, or other medical behavior, or autoimmune disease, any personal or financial loss arising from any condition or derivative of a travel liability insurance policy, I agree to be fully accountable, which has nothing to do with Giant Travel Agency, and the consent form is hereby made for verification.
【Overseas Travel – Notice of Safety Insurance】(for people who are not staying with the group for the whole trip)
I fully understand that I am responsible for obtaining my flight ticket and meeting the group members at the designated place, and that travel agency liability insurance coverage is not applicable to me in this trip. As the result, the travel expenses that I pay for this trip do not include any insurance. I will obtain necessary personal travel safety insurance on your own in the place of departure.